The I SEE project has been presented at the 103rd Conference of the Italian Physics Society (SIF, Italian acronym) that took place in Trento, from the 11th to the 15th of September, 2017.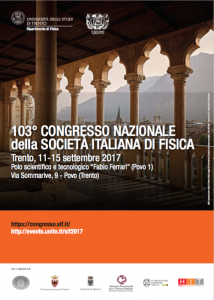 The conference convenes for a week about 600 Italian physicists and represents the moment in which the entire national scientific community meets, in spite of the different cultural interests due the large variety of physical research sectors. See the official site of the conference for further information.
An abstract about the I SEE project, by the Research Group in Physics Education of the University of Bologna, has been submitted and accepted within the strand of Physics Education and History. The title of the contribution was The design of teaching modules about the science of complex systems to develop future-scaffolding skills: the I SEE European project (by Olivia Levrini, Eleonora Barelli, Laura Branchetti and Giulia Tasquier) and was presented during the conference by Eleonora Barelli (presentation is here available). The abstract can be read in Italian at this link while in the followings we provide the English translation.
"Many researches highlight that young generations have difficulties in projecting themselves toward the future and imaging them as future STEM professionals. How the Physics Education can develop tools to manage the uncertainty toward future. The Research Group in Physics Education, within the I SEE European project and the PLS (Italian acronym for Scientific Degree Plan), has been building teaching modules, through the science of complexity, with the goal of the development of future-scaffolding skills, competencies to make students acquainted to the construction of visions of future able to orient actions in the present. In this contribution the results of pilot study will be presented."