On November 16th, in Bologna, the I SEE Project has been presented during a two day workshop, organized from the University of Bologna, dedicated to Social Sciences and Humanities (SSH).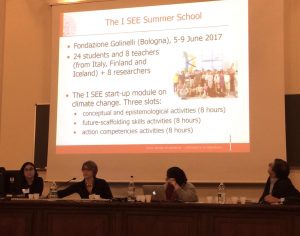 The conference has been promoted by the Thematic Group on SSH of the University of Bologna, which has the specific mission to stimulate and support the participation of researchers in competitive funding programs, in order to maximize opportunities of collaboration and strengthening strategic networks (see the Web page for further information).
The event has showcased more than 30 projects funded by Horizon 2020 and other major European programmes (Erasmus +, Creative Europe, Justice, EASI) carried out by the University of Bologna and its strategic partners in the field of SSH – including NGOs, local authorities, cultural foundations.
The presentation of I SEE has been held by Giulia Tasquier and Eleonora Barelli, from the Research Group in STEM Education of the University of Bologna: they disseminated the core idea of the project, the general objectives, the intellectual outputs as well as the preliminary results. The PDF is available here.